Rancangan Program Pengembangan SDM Stratejik Berbasis Kompetensi untuk Level Manajer di PT XYZ
Keywords:
Human Resource Development, Competence, Outsourcing, Strategy, Program, Learning
Abstract
PT XYZ, a company in outsourcing business, is in the midst of business model change. This change demands two things from the employees. First, because of the increasing complexity of the intended business process, companies need to improve their employees' capabilities. Second, for the process of change to work well and quickly employees need to be in tune with the core competencies of the company. This thesis focuses on achieving that second demand through employee development strategies and programs at the manager level. Managers have a role as a bridge between top management and staff. This unique position makes the manager role as a lever in the internalization of core competencies. The success of PT XYZ instilling core competencies in managers will determine the success of internalizing core competencies across the company. The success of such internalization will determine the success of business model change which will be the future of the company. This will be the foundation of PT XYZ in doing evolution. This thesis produces the design of the strategic scope and program scope of human resource development based on core competency. The strategic scope ensures human resource development will align with and support the corporate strategy. The program scope designs appropriate development activities to build core competencies, develop ways to evaluate them, and ensure managers can apply these core competencies in their jobs.
References
Chong, M. (2007). The Role of Internal Communication and Training in Infusing Corporate Values and Delivering Brand Promise: Singapore Airlines' Experience. Corporate Reputation Review , 201-212.
Vallaster, C., & de Chernatony, L. (2005). Internationalisation of Services Brands: The Role of Leadership During the Internal Brand Building Process. Journal of Marketing Management , 181 – 203.
Ackerman, L. D. (2000). Identity Is Destiny: Leadership and the Roots of Value Creation. San Francisco: Berrett-Koehler Publishers, Inc.
Tabrizi, B. (2014). The Key to Change Is Middle Management. Harvard Business Review .
Spencer, L. M., & Spencer, S. M. (1993). Competence at Work: Models for Superior Performance. New York: John Wiley & Sons, Inc.
Lucia, A. D., & Lepsinger, R. (1999). The Art and Science of Competency Models: Pinpointing Critical Success Factors in Organizations. San Francisco: Jossey-Bass/Pfeiffer.
Houtzagers, G. (1999). Empowerment, Using Skills and Competence Management. Participation and Empowerment: An International Journal Vol. 7 Issue: 2 , 27-32.
Heffernan, M. M., & Flood, P. C. (2000). An exploration of the relationships between the adoption of managerial competencies, organisational characteristics, human resource sophistication and performance in Irish organisations. Journal of European Industrial Training, Vol. 24, Issue: 2/3/4 , 128-136.
Matthewman, J. (1997). Competencies in practice: The 5th HR-BC / IRS Annual Survey. Competency - The Journal of Performance through People, Vol. 5, No. 2 , 2-10.
Palan, R. (2003). Competency Management: A Practitioner's Guide. Kuala Lumpur: Specialist Management Resources Sdn Bhd.
Milmore, M., Lewis, P., Saunders, M., Thornhill, A., & Morrow, T. (2007). Strategic Human Resource Management. Essex: Pearson Education Ltd.
McCracken, M., & Wallace, M. (2000). Towards a Redefinition of Strategic HRD. Journal of European Industrial Training , XXIV (5), 281–290.
Myers, J., & Kirk, S. (2005). Managing Resources of Human Resource Development. Harlow: Financial Times.
Noe, R. A. (2013). Employee Training and Development (6th ed.). New York: McGraw-Hill.
Garavan, T. (1991). Strategic Human Resource Development. Journal of European Industrial Training , XV (1), 17-30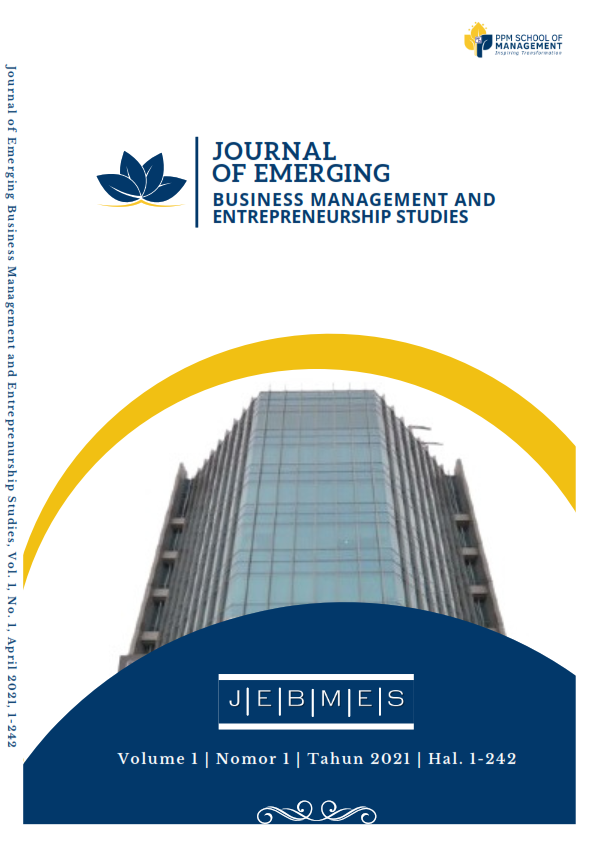 Downloads
How to Cite
Prabowo, C. W. ., & Saragih, E. H. . (2021). Rancangan Program Pengembangan SDM Stratejik Berbasis Kompetensi untuk Level Manajer di PT XYZ . Journal of Emerging Business Management and Entrepreneurship Studies, 1(1), 149–167. https://doi.org/10.34149/jebmes.v1i1.13