Pengaruh Work Life Balance terhadap Kinerja Karyawan Generasi X dan Y di Jakarta
Keywords:
Work Life Balance, PLIW, WIPL, PLEW, WEPL, Employee Performance, Generation X and Y
Abstract
The purpose of this research is to understanding the impact or work life balance on employee performance with the existence of X and Y in Jakarta. The dimensions of work life balance in this study was divided into four dimensions, personal life interference (PLIW), work interference personal life (WIPL), work enhancement personal life (WEPL) and personal life enhancement work (PLEW). This research was analyzing questionnaire's result of 384 employees' in Jakarta using quota sampling technique. The sample consist of 192 employee generation X and 192 employee generation Y. SPSS 23 was used for statistical analysis including regression. The partial test showed that WIPL has a insignificant effect on the performance of X and Y generation, PLIW has a negative and significant effect, WEPL and PLEW has a positive and significant effect. From the four dimensions of work life balance measurement, it was also founded that the variable that most influence generation X was PLEW and the variable that most influence generation Y was WEPL. Next research must pay attention to the measurement of employee performance with different methods, namely real measurement derived from company.
References
Ali, H & Purwandi, L. (2016). Indonesia 2020: The Urban Middle-Class Millennials. Jakarta : PT. Alvara Strategi Indonesia.
Antara. (2018, 6 Maret). Produktivitas Pekerja Tumbuh 3.1% Per Tahun. Diperoleh 16 September 2018, dari http://mediaindonesia.com/read/detail/148173-produktivitas-pekerja-indonesia-tumbuh-3-1-per-tahun.
Badan Pusat Statistik. (2013). Proyeksi Penduduk Indonesia 2010-2035. Jakarta : Badan Pusat Statistik.
Badan Pusat Statistik. (2018). Statistik Indonesia 2017. Jakarta : Badan Pusat Statistik.
Triwijanarko, R. (2017, 9 Desember). Menajer Hanif: Produktivitas Tenaga Kerja Indonesia Terus Meningkat. Diperoleh 17 Mei 2018, dari https://biz.kompas.com/read/2017/12/09/094833528/menaker-hanif-produktivitas-tenaga-kerjaindonesia-terus-meningkat
Angeline, L. (2016). Pengaruh Work life balance dan Stres Kerja terhadap Kinerja Karyawan pada PT. Bank Central Asia Cabang Relasi Indah Jakarta. Skripsi. Universitas Mercu Buana : Jakarta.
Fawazi, A. (2014). Analisis Pengaruh Ekspektasi Kerja Generasi X dan Generasi Y Terhadap Efektivitas Strategi Rekrutmen di PT. Samudra Indonesia. Skripsi. Jakarta : Binus University.
Puspowaristo, H.A.H. (2008). Metode Penelitian Organisasi. Bandung: Humaniora.
Situmorang, S.H. & Lutfi, M. (2011). Analisis Data Untuk Riset Manajem dan Bisnis. Medan: USU Press.
Bloom, N., Kretschmer, T., & Reenen, J. V. (2006). Work Life Balance, Management Practices and Productivity. Economic and Social Research Council.
Burch, R. F. & Strawderman, L. (2014). Leveraging Generational Differences to Reduce Knowledge Transfer and Retention Issues in Public Administration. Public Administration Research, 3(2), 61-75.
Cramer, L., Parris, M., & Saville, K. (2011). Generation Y Talk About Work Life Balance: Not So Different After All?. 25th Annual Australian And New Zealand Academy of Management Conference:The Future of Work and Organisations,11-16.
Ensari, M. S. (2017). A Study on The Differences of Entrepreneurship Potential Among Generations. Research Journal of Business and Management, 4(1), 52-62.
Fisher, G.G., Bulger, C.A., & Smith C.S., (2009). Beyond Work and Family : A Measure of Work/Nonwork Interference and Enhancement. Journal of Occupational Health Psychology, 14(4), 441-456.
Ganapathi, I. M. D & Gilang, A. (2016). The Influence of Work Life Balance on Employees Job Satisfaction (Study at PT. BIO Farma PERSERO). E-Proceeding of Management, 3(1), 506-511.
Hudson. (2005). The Case for Work-Life Balance. 20:20 Series. E-book The Case for Work/Life Balance: Closing the Gap Between Policy and Practice.
Keino, D & Kithae, P.P. (2016). Effects of Wotk Life Balance of Staff Performance in the Telecommunication Sector in Kenya. Archives of Business Research , 4(1), 129-138.
Krejcie, R.V. & Morgan, D.W (1970). Determining Sample Size for Research Activities. Educational and Psychological Management, Vol. 30, page 607-618.
Krishnan, R., Loon, K. W., & Tan, N. Z. (2018). The Effects of Job Satisfaction and Work Life Balance on Employee Task Performance. International Journal of Academic Research in Business and Social Sciences, 8(3), 653-662.
Kusjainah & Listyorini, I. (2015). Faktor-Faktor yang Mempengaruhi Kinerja Karyawan : Model Pengujian dengan Variabel Mediasi. Jurnal Telaah Bisnis, 16(1), 17-30.
Liao, C. W., Lu, C. Y., Huang, C. K., & Chiang, T.L. (2012). Work Values, Work Attitude and Job Performance of Green Energy Industry Employees in Taiwan. African Journal of Business Management, 6(15), 5299-5318.
Mendis, M. D.V. S & Weerakkody, W. A. S. (2014). The Relationship between Work life Balance and Employee Performance : With Reference to Telecommunication Industry of Sri Lanka. Kelaniya Journal of Human Resource Management, 9(1), 95-117.
Moore, F. (2007). Work life balance: Constrasting Managers and Workers in An MNC Employee Relations, 29(4), 385-399.
Muda, I., Rafiki, A., & Harahap, M. R. (2014). Factors Influencing Employees Performance: A Study on the Islamic Banks in Indonesia. International Journal of Business and Social Science, 5(2), 73-80.
Nurani, A. & Nilawati, L. (2016). Pengaruh Work Life Balance terhadap Kinerja Karyawan yang Dimediasi oleh Komitmen Afektif. Jurnal Ekonomi dan Pembangunan,6 (1), 68-83.
Saina, I.V., Pio, R. J., & Rumawas, W. (2016). Pengaruh Worklife Balance dan Kompensasi Terhadap Kinerja Karyawan pada PT. PLN (Persero) Wilayah Suluttenggo Area Manado. Jurnal Administrasi Bisnis.
Sekaran, U. & Bougie, R. (2013). Research Methods for Business (6th Ed). United Kindgom: John Wiley & Son Ltd.
Utomo, C., Djastuti, I., & Mahfudz. (2016). Pengaruh Keseimbangan Kehidupan Kerja terhadap Stres Kerja yang Berimplikasi pada Kinerja Pegawai.
Van de Ven, A. A. G. (2011). How Generations Balance Work and Private Live. Master Thesis Human Resources Studies. Universiteit Van Tilburg.
Wambui, M. L., Cherotich, B. C., Emily, T., & Dave, B. (2017). Effects of Work life balance on Employee Performance in Institutions of Higher Learning. A Case Study of Kabarak University. Kabarak Journal of Research and Innovation, 4(2), 60-79.
Yigit, S. & Aksay, K. (2015). A Comparison between Generation X and Generation Y in Terms of Individual Innovativeness Behavior: The Case of Turkish Health Professionals. International Journal of Business Administration, 6(2),106-117.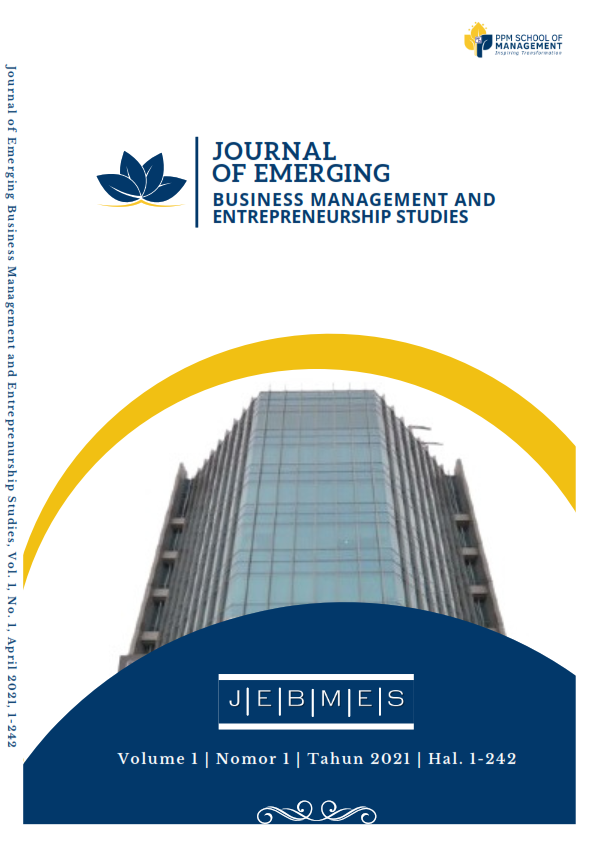 Downloads
How to Cite
Angin, I. I. P. ., & Saragih, E. H. . (2021). Pengaruh Work Life Balance terhadap Kinerja Karyawan Generasi X dan Y di Jakarta. Journal of Emerging Business Management and Entrepreneurship Studies, 1(1), 48–57. https://doi.org/10.34149/jebmes.v1i1.14