Rancangan Strategi Bisnis PT.Pel Berlian Pulau Mandangin Tahun 2021 – 2023
Indonesia
Keywords:
Shipping Industry, Business Strategy Design, Opportunities And Threats, Strengths And Weaknesses, Alternative Strategies, Planning Implementation Of Business Strategies
Abstract
This thesis discusses about the business strategy design 2021 - 2023 period. The formulation of business strategy is carried out by conducting an external analysis, in order to obtain opportunities and threats that can affect the shipping industry, then formulate the strengths and weaknesses of PT. BPM, then performs the formulation of alternative strategies using internal and external analysis (IE) and the TOWS Matrix. And in order to obtain several alternative strategic options. The last step is choosing a strategy using the Quantitative Strategic Planning Matrix (QSPM).  QSPM analysis shows that the selected strategy for the 2021 - 2023 period is a product development and planning business implementation of the chosen strategy.
References
Anggraeni, R. (2020, Maret 20). Jumlah galangan kapal tembus 250 perusahaan, kapasitas capai 1 dwt. Retrieved from sindonews: https://ekbis.sindonews.com/berita/1562269/34/jumlah-galangan-kapal-tembus-250-perusahaan-kapasitas-capai-1-dwt
Berlian Pulau Mandangin. (2020). Data Keuangan 2019 -2020. Jakarta: Berlian Pulau Mandangin.
Cahyani, D. R. (2020, Agustus 24). INSA: Jumlah Kapal di Indonesia Naik Dua Kali Lipat dalam 5 Tahun. Retrieved from Tempo: https://bisnis.tempo.co/read/1378900/insa-jumlah-kapal-di-indonesia-naik-dua-kali-lipat-dalam-5-tahun
David, R. F., & Forest, R. D. (2017). Strategic Management 16th Edition : A Competitive Advantage Approach. United States: Pearson Education.
Dukung Tol Laut, Kemenhub Bakal Subsidi Angkutan Logistik. (2020, Desember 15). Retrieved from CNN Indonesia: https://www.cnnindonesia.com/ekonomi/20201214143612-92-581887/dukung-tol-laut-kemenhub-bakal-subsidi-angkutan-logistik
Hariadi, B. (2003). Manajemen Strategis. Malang: Banyumedia..
Hitt, Michael, A., Ireland, R., Duane, & Hoskisson, R. E. (2011). Strategic Management: Competitiveness and Globalization. Jakarta: Salemba Empat.
Industri Pelabuhan Dan Pelayaran Bersiap Hadapi Revolusi 4.0. (2020). From Kementrian Perhubungan: http://hubla.dephub.go.id/berita/Pages/Industri-Pelabuhan-Dan-Pelayaran-Bersiap-Hadapi-Revolusi-4.0.aspx
Industri Pelayaran Indonesia. (2019, Maret). Retrieved from Maritim Indonesia: https://maritimindonesia.com/2019/01/03/industri-pelayaran-indonesia-2019/
Kinanti , P., Yulianingsih, W., Pratiwi , R., Yanuar, V., & Hamidah, I. (2019). Statistik Perhubungan Buku I & 2. Jakarta: Pustikom-Kementrian Perhubungan.
Kotler, P., & Keller, L. K. (2016). Marketing Management 15th Edition. United States: Pearson Education, Inc.
Nugroho, W. A., Baga, M. L., & Iskandar, H. B. (2017). Strategi Pengembangan Bisnis Pt Pelayaran Bahtera Adhiguna Dalam Industri Pelayaran. Institut Pertanian Bogor, Hal 321-336.
Payanides, & Wiedmer. (2011). Strategic Alliance In Container Liner Shipping . Reseach In Transportation Economics , 32 (2011), pp. 25-38.
Pelayaran Nasional Belum Tumbuh Cemerlang. (2019). Retrieved from INSA: https://insa.or.id/pelayaran-nasional-belum-tumbuh-cemerlang/
Peraturan Menteri Perhubungan Republik Indonesia. (2016). Retrieved from Kementrian Perhubungan: https://www.bphn.go.id/data/documents/pm_11_tahun_2016
Porter, E. M. (1980). Competitive Strategy : Techniques For Analyzing Industries and Competitors. Macmillan Publishing Co. Inc.
Sekaran Uma. (2016). Research methods for business : a skill-building approach. United Kingdom: Includes bibliographical references and index.
Setijadi. (2020, Maret 17). PDB Sektor Logistik Indonesia 2019 Tumbuh 10,51%, Proyeksi 2020 Akan Terkoreksi. Retrieved from Supply Chain Indonesia: https://supplychainindonesia.com/pdb-sektor-logistik-indonesia-2019-tumbuh-1051-proyeksi-2020-akan-terkoreksi/
Stipe Spanja, Aleksandra Krajnovic, & Jurica Bosna. (2017). Competitiveness And Business Strategies Of Shipping Companies, 132.
Sugiyono. (2013). Metode Penelitian Kuantitatif Kualitatif Dan R & D. Bandung: Alfabeta, CV.
Terbitkan Permendag 40/2020, Pemerintah Revisi kewajiban Penggunaan Angkutan laut Nasional. (2020, Juni). Retrieved from Jurnal Maritim: https://jurnalmaritim.com/terbitkan-permendag-40-2020-pemerintah-revisi- kewajiban-angkutan-laut-nasional/
Thomas, L. W. (2015). Strategic Management and Business Policy. 14 th Edition: England :Pearson.
Tongson, J, Taechang, Y, Yoonlee, & S. (2009). How Supply Chain Oriented Is The Port Sector . International Journal Production Economics , 122, pp. 21-34.
Wheelen, & Hunger. (2015). Strategic Management And Business policy. Pearson Education Limited.
Widodo, P. W. (2020, Desember 17). Harga minyak dunia akan terus naik hingga 2022, begini perkiraan Bank Dunia. Retrieved from Kontan: https://internasional.kontan.co.id/news/harga-minyak-dunia-akan-terus-naik-hingga-2022-begini-perkiraan-bank-dunia
Yolandha, F. (2020, Oktober 31). Program B40 Ditargetkan Mulai Digunakan 2022. Retrieved from Republika: https://republika.co.id/berita/qj0dcg370/program-b40-ditargetkan-mulai-digunakan-2022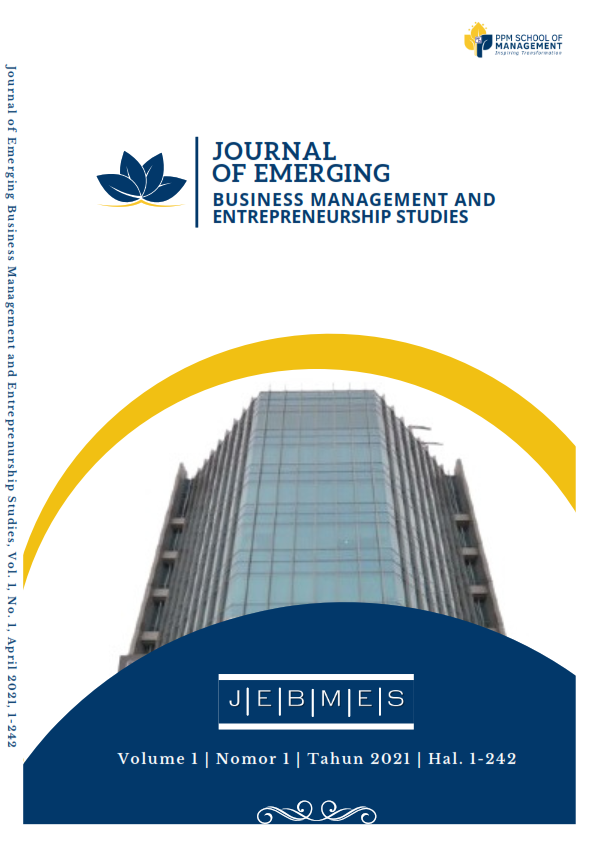 Downloads
How to Cite
Rohman, A. R., & Hidayati, A. . (2021). Rancangan Strategi Bisnis PT.Pel Berlian Pulau Mandangin Tahun 2021 – 2023 : Indonesia. Journal of Emerging Business Management and Entrepreneurship Studies, 1(1), 168–191. https://doi.org/10.34149/jebmes.v1i1.16