Standarisasi dan Perbaikan Proses Bisnis dengan Pendekatan Business Process Improvement Pada Viseworks Studio
Keywords:
Business Process Improvement, BPI, Business Process Standardization, Five Whys Analysis, Fishbone Diagram
Abstract
Viseworks Studio is a pre-startup company running on digital art sector of creative industry that offers complete digital asset for visual branding and utility purpose such as: graphic design, photography, videography, animation, interior and architecture, and interaction design. In a new established company, there is no well-standardized business process that causes business cannot run maximally because it is still exploring what kind of activity that must be done and what must be avoided. With the existence of business process standardization and improvement, hopefully company can run the business effectively, efficently, and be able to create added value for customers. This research contains of qualitative data gathered from interview, experiment, and observation directly to the subject that is focused on the people, process, and technology aspect. The result of business process standardization and improvement are: gain of speed from the machine and waiting time, gain of quality, increase of product variety, and gain of product value. Although there has been an improvement, business process lifecycle must be running over the time to create improvement continuously.
References
Achmad, M. (2021). Analisis Pengendalian Kualitas Produk Dengan Metode Six Sigma Pada Harian Tribun Timur. Universitas Hasanuddin.
Agung, S. (2014). Analisa Proses Bisnis Dengan Menggunakan Metode Fishbone Diagram Pada Pt. Tirta Kurnia Jasatama Semarang. http://eprints.dinus.ac.id/13366/
Bagaskara, P. A., Setiawan, N. Y., & Perdanakusuma, A. R. (2019). Analisis dan Perbaikan Proses Bisnis dengan menggunakan Metode Business Process Improvement (BPI) pada PT. Andynni Chitta Sejahtera. Jurnal Pengembangan Teknologi Informasi Dan Ilmu Komputer; Vol 3 No 8 (2019). https://j-ptiik.ub.ac.id/index.php/j-ptiik/article/view/5928
Dumas, M., La Rosa, M., Mendling, J., & Reijers, H. A. (2013). Fundamentals of Business Process Management. Springer Berlin Heidelberg. https://doi.org/10.1007/978-3-642-33143-5
Permatasari, M. Y., Aknuranda, I., & Setiawan, N. Y. (2017). Analisis dan Perbaikan Proses Bisnis dengan menggunakan Teknik Esia (Studi Kasus : Departemen Produksi PT XYZ). Jurnal Pengembangan Teknologi Informasi Dan Ilmu Komputer; Vol 2 No 3 (2018). https://j-ptiik.ub.ac.id/index.php/j-ptiik/article/view/1216
Salma, I., Setiawan, N. Y., & Aknuranda, I. (2018). Evaluasi dan Perbaikan Proses Bisnis Dengan Business Process Improvement (BPI), Root Cause Analisys (RCA) dan Quality Evaluation Factor (QEF) Pada Layanan Jasa Untuk Pelanggan (Studi Kasus: Kantor Jasa Penilai Publik (KJPP) Aditya Iskandar dan Rekan). Jurnal Pengembangan Teknologi Informasi Dan Ilmu Komputer; Vol 2 No 11 (2018). https://j-ptiik.ub.ac.id/index.php/j-ptiik/article/view/3344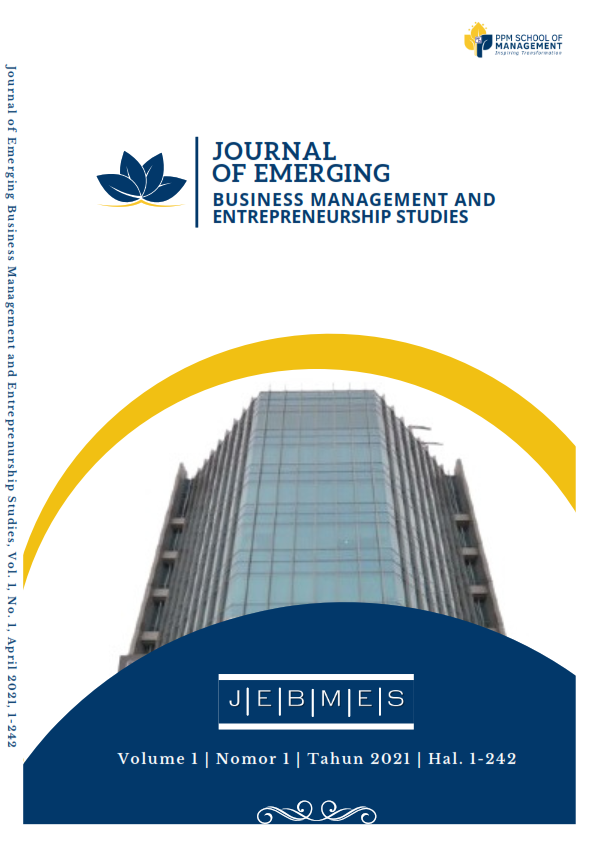 Downloads
How to Cite
Afif, A. M., & Prasetyo, A. H. . (2021). Standarisasi dan Perbaikan Proses Bisnis dengan Pendekatan Business Process Improvement Pada Viseworks Studio . Journal of Emerging Business Management and Entrepreneurship Studies, 1(1), 211–225. https://doi.org/10.34149/jebmes.v1i1.3