Asesmen Manajemen Risiko PT Samudra Akasia Teknologi
Keywords:
Desain Sistem, Manajemen Risiko, ISO 31000:2018, PMBOK, POJK
Abstract
PT Samudra Akasia Teknologi adalah penyedia jasa infrastruktur digital dan teknologi. Perusahaan mengalami kerugian akibat dari besarnya beban yang dimiliki karena semua biaya dalam menjalankan proses bisnis anak perusahaan dibebankan kepada perusahaan induk. Perusahaan belum memiliki sistem manajemen risiko, dimana berfungsi untuk memitigasi risiko yang terjadi dan mencari solusi yang efektif dalam menghadapi risiko yang baru muncul atau risiko yang sama terulang kembali dan memberikan dampak buruk. Selain itu, OJK juga memiliki ketentuan bagi pelaku fintech untuk menerapkan manajemen risiko di perusahaan. Tujuan dari penelitian yang bersifat kualitatif ini membuat usulan desain sistem dan asesmen manajemen risiko yang merujuk pada peraturan yang telah dikeluarkan oleh OJK dilengkapi dengan metode ISO 31000:2018 dan PMBOK sebagai pedoman prinsip yang akan diterapkan diperusahaan. Berdasarkan ketiga pedoman tersebut diharapkan kombinasi pedoman tersebut akan menciptakan sistem manajemen risiko yang tepat dan efektif. Setelah melakukan asesmen risiko PT Samudra Akasia Teknologi terdapat 171 risiko teridentifikasi yang dikategorikan berdasarkan risiko operasional sistemik, risiko siber, risiko operasional individu, risiko jasa pihak ketiga, risiko finansial, risiko strategis, risiko pendanaan terorisme dan pencucian, serta risiko proyek. Setelah dilakukan pengolahan data dan analisis didapatkan 26 risiko pada kategori ekstrim, 11 risiko berada pada kategori tinggi, dan 50 risiko termasuk kategori moderat.
References
Barghi, B., & sikari, S. S. (2020). Qualitative and quantitative project risk assessment using a hybrid PMBOK model developed under uncertainty conditions. Heliyon 6.
Bismark, O., Kofi, O. A., Frank, A.-G., & Eric, H. (2018). Utilizing Mckinsey 7s Model, SWOT Analysis, PESTLE and Balance Scorecard to Foster Efficient Implementation of Organizational Strategy. Evidence from The Community Hospital Group- Ghana Limited. International Journal of Research in Business, Economics and Management Vol.2 .
Enslin, Z. (2012). Cloud computing adoption: Control objectives for information and related technology (COBIT) - mapped risks and risk mitigating controls. African Journal of Business Management Vol.6 (37), 10185-10194.
Foris, P. J., & Mustamu, R. H. (2015). Analisis Strategi Pada Perusahaan Plastik Dengan Porter Five Forces. AGORA Vol. 3, No.1.
Gabriel Henrique Silva Rampinia, *. ,. (2019). Critical Success Factors of Risk Management with the Advent of ISO 31000:2018 Descriptive and Content analyze.
Lee, I., & Shin, Y. J. (2018). Fintech: Ecosystem, business models, investment decisions, and challenges. Business Horizons, 61, 35-46.
Mohammed, H. K., & Knapkova, A. (2016). The Impact of Total Risk Management on Company's Performance. Procedia - Social and Behavioral Sciences 220 , 271-277.
Nuringtyas, R. J. (2020). Analisis 7S McKinsey PT Hasil Rotibua Abadi untuk Perbaikan Organisasi. Business and Finance Journal, Volume 5, No. 1, .
Otoritas Jasa Keuangan, (2021). Penerapan Manajemen Risiko Dalam Penggunaan Teknologi Informasi Oleh Lembaga Jasa Keuangan Nonbank. Diakses melalui : https://www.ojk.go.id/id/regulasi/Documents/Pages/Penerapan-Manajemen-Risiko-dalam-Penggunaan-Teknologi-Informasi-oleh-Lembaga-Jasa-Keuangan-Nonbank/pojk%204-2021.pdf pada Minggu 26 September 2021
Olechowski, A., Oehmen, J., Seering, W., & Ben-Daya, M. (2016). The professionalization of risk management: What role can the ISO 31000 risk management principles play? International Journal of Project Management 34, 1568-1578.
Pertiwi, H. (2017). Implementasi Manajemen Risiko Berdasarkan PMBOK Untuk Mencegah Keterlambatan Proyek Area Jawa Timur. Jurnal Studi Manajemen Dan Bisnis 96 Vol 4 No. 2.
Porter, M. E. (1998). Competitive Advantage: Creating and Sustaining Superior Performance. New York: Free Press.
Rampini, G. H., Takia, H., & Berssaneti, F. T. (2019). Critical Success Factors of Risk Management with the Advent of ISO 31000:2018 Descriptive and Content Analyze. Procedia Manufacturing 39, 894-903.
Samudra Akasia Teknologi PT, (2019). Laporan Keuangan 2019.
Samudra Akasia Teknologi PT, (2020). Laporan Keuangan 2020.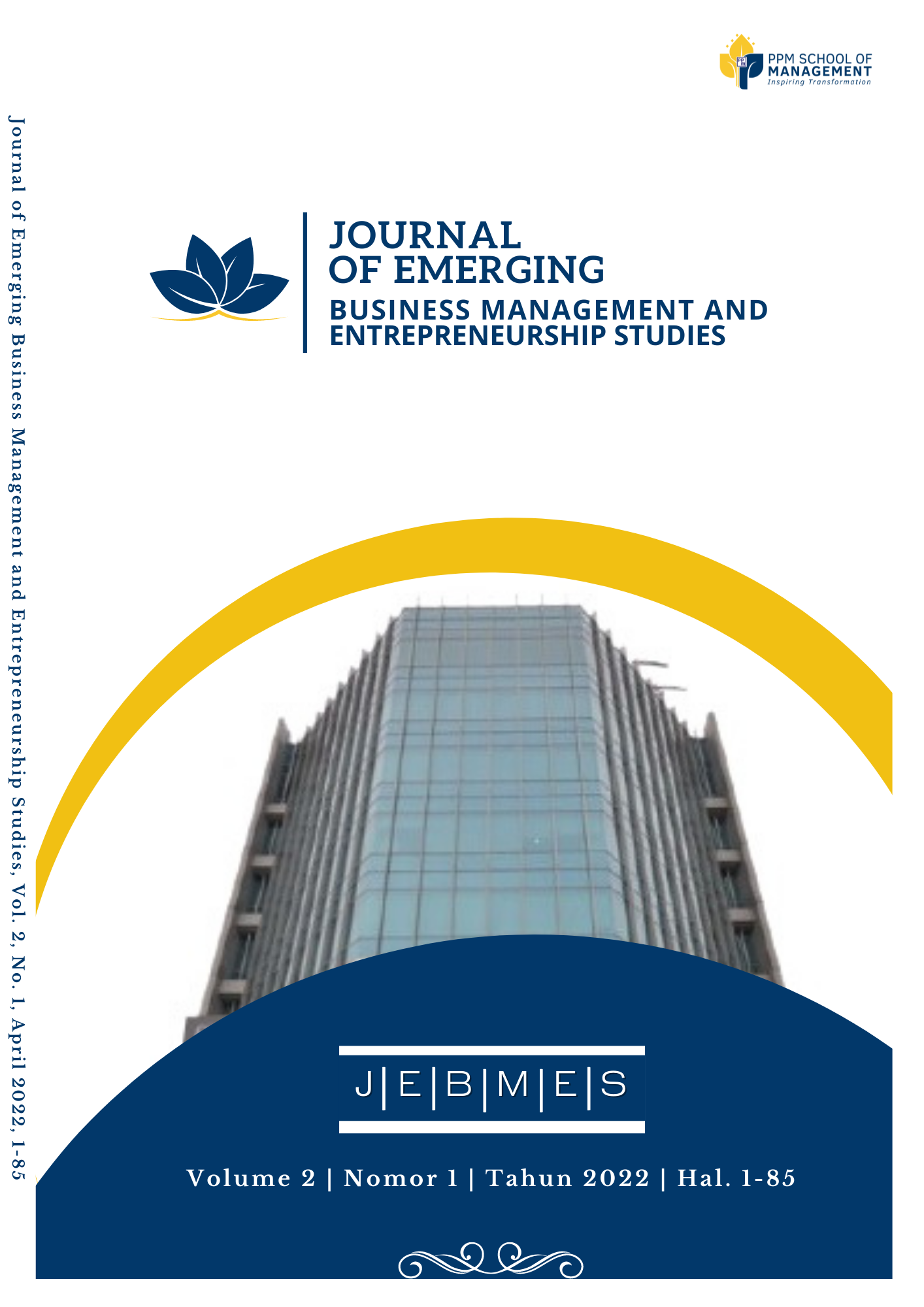 Downloads
How to Cite
Siahaan, F. E. M. ., Agustina, N. F., & Prasetyo, A. H. . (2022). Asesmen Manajemen Risiko PT Samudra Akasia Teknologi. Journal of Emerging Business Management and Entrepreneurship Studies, 2(1), 67–85. https://doi.org/10.34149/jebmes.v2i1.70