Pengembangan Bisnis PT Anagile Kharisma Utama
Keywords:
Cashless, POS, PG, EDC Android, BMC
Abstract
The increase in the number of cashless transactions due to the shift in the way of public payments to cashless began to surge rapidly at the end of 2018, but the amount of EDC payments did not increase. The business model design & business development of PT Anagile Kharisma Utama is intended to take the opportunity of the phenomenon by placing POS (Point of Sales) and PG (Payment Gateway) in one device, namely EDC Android. Business model design & business development are analyzed using the Business Model Canvas approach. The results of the analysis are nine elements in the business model, which are customer segments, channels, customer relationships, value propositions, revenue streams, key resources, key activities, key partnerships, and cost structure.
References
Bekraf. (2019). Infografis Sebaran Pelaku Ekonomi Kreatif. Badan Ekonomi Kreatif.
Databoks. (2019, 10 22). Retrieved from https://databoks.katadata.co.id/datapublish/2019/08/08/transaksi-digital-menggeser-peran-kantor-cabang-dan-atm-bank/
David, F. R., & David, F. R. (2012). Strategic Management Concepts. Pearson Education Limited.
Osterwalder, A., & Pigneur, Y. (2010). Business Model Generation. New York: John Wiley & Sons.
Porter, M. E. (1985). Competitive Advantage. New York: Free Press.
Ries, E. (2011). The Lean Startup. New York: Crown Business.
Sepianto, & Hartawan, W. (2019, 10). (S. Tan, Interviewer)
Statistik, B. P. (2019). Laporan Perkembangan Pariwisata dan Transportasi Nasional.
Thiel, P. (2014). Zero to One. New York: Crown Business.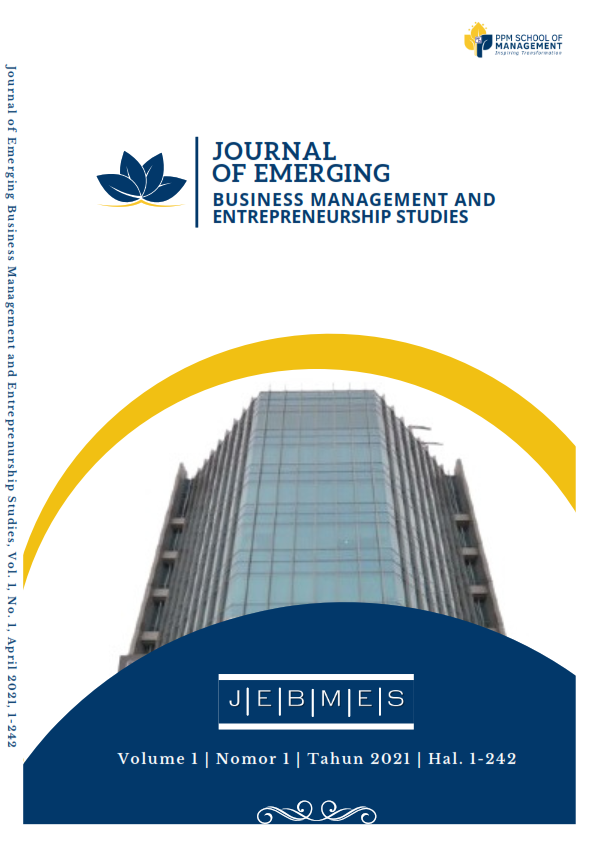 Downloads
How to Cite
Tan, S. ., & Munir, N. S. . (2021). Pengembangan Bisnis PT Anagile Kharisma Utama. Journal of Emerging Business Management and Entrepreneurship Studies, 1(1), 58–78. https://doi.org/10.34149/jebmes.v1i1.8